I employed a Human-Centered Design (HCD) in our methodology. This methodology helped me gain insight from the maker community, which is highly active in problem-solving and solution-building. Furthermore, I was able to take advantage of the maker community's wide range of backgrounds, skills, and knowledge to identify design opportunities and evaluate the built prototype.
‍
1. Inspiration
I divided the inspiration phase into two studies. At this stage, my goal was to understand the makers' documentation practices, the types of data that they capture during the building process, and the different visualization formats of those data. To do this, I first conducted an artifact analysis study on common documentation formats that exist in maker communities. After which, I held interviews and brainstorming sessions with professional and hobbyist makers to conclude the findings and generate ideas on implementing a solution.
‍
Artifact Analysis - I chose artifact analysis as only by examining how people use and conceptualize documentation we could identify the design goals of the new interaction.
I selected four highly viewed examples of documentation on the assumption that they were more likely to have relatively higher-quality documentation and, therefore, would be good sources for the analysis. From Instructables, one of Becky Stern's projects was selected, where she builds an RFID ring using metalworking techniques and a small RFID tag. From the Make:Projects website, we selected Clarissa Kleveno's project, where she makes an LED ring that lights up when it is correctly aligned with an electromagnetic field. From Build in Progress, Tiffany Tseng's Spin Turntable was selected, in which she builds a turntable connected to a mobile phone application and allows makers to create GIFs of their made objects. Lastly, from YouTube, we selected Adam Savage's projects, where he makes a novel over-engineered bottle opener in collaboration with Laura Kampf, who is another YouTuber and maker.
‍
‍
I selected 30 questions for analyzing the strengths and limitations of the varied documentation formats, types of media used for sharing information, and ability to access information by an expert or non-expert. Through the analysis, I found that:
it was difficult to directly connect the object to some parts of the documentation information,
makers used multiple formats to present information, and there was not much consistency in how the media was used, and lastly
similar to previous literature work, we found that finding information was challenging.
‍
Interview and Brainstorming Sessions - I chose to conduct a semi-structured interview with makers as it would allow me to get a better understanding of their documentation practice, but also, by bringing them into the project, I could use their expertise and experiences to ideate a solution.
I held interviews and brainstorming sessions with five professional and hobbyist makers. My goal was to better understand the makers' documenting practices and identify what they perceived as the best way to connect documentation-related information to the physical object being built. Four out of the five participants identified that attaching documentation data to the physical object was highly beneficial for them as makers, and argued that it would help them better understand the documentation.
From these data, I set three design goals for the project:
Support Embedding Information in an Unrestricted Manner - From the interviews, I learned that makers require the flexibility to embed documentation information on any surface of the object. They may decide the spatial location for embedding information based on various factors such as how it affects the look and feel of the object or based on their assigned weight of importance for that information.
Allow Multiple Media Formats to be Connected - I learned from the artifact analysis and interviews that documentation constitutes information shared via multiple media formats such as videos, text, pictures and fabrication files. To support a more holistic reflection process, I think that tools for coupling documentation information should allow makers to input and map multiple media formats.
Support for Different Tag Styles - Brainstorming highlighted that participants value how the objects look and feel and prefer that the embedded documentation information does not interfere with the object's aesthetics. However, participants also highlighted the benefits of embedding information in ways that can be easily recognized.  To support such variations, I recommend that embedding information could be supported in multiple ways.
‍
2. Ideation

I developed this particular prototype by making smaller prototypes that were designed to test the specific parameters that I identified as potential ways to enhance interaction with the documentation. Furthermore, I created multiple iterations and tested them thoroughly to figure out the limitations of the technologies at hand. My goal was to create a pipeline, which begins from the creation of the documentation and finishes with the document being ready to be viewed and shared through a 3D model of the object.
I created the application using P5, a JavaScript library. P5 allowed me to quickly create a simple user interface (UI) for the application so that users could upload their files to each tag. I chose to use 3D printing technology to embed tags onto 3D models of the objects. To make sure those tags are printable with the common printers that are accessible to most makers, I used a Prusa i3 MK3S printer and ran a test on what types of tags I could use. I was looking for tags that would be both human-readable and machine-detectable. I want users to understand what data they should expect to find on the object by just seeing the object's 3D model. At the same time, the tags should be easily scanned by the built prototype so the system can retrieve the information that is attached to them.
‍
‍
I explored three types of tags. In the frst series, I added a simple shape embedded on top of the 3D model of the object. In the second series, I added simple shapes as engravings on the 3D models. And fnally, for the third series, I tried adding patterns onto the 3D models. I found that considering the limitation of the printer and its level of accuracy printing the first series of embedded simple shapes would work best.
‍
‍
The next step was to attach the selected tags onto the 3D models of the objects. I needed the system to be user-friendly so that all the makers, including those with limited knowledge of the technology, could be able to move the tags on the object and place them on their desired locations. Tinkercad provided a user-friendly way to model the object. Users are navigated to a premade sketch on Tinkercad that includes an example 3D model and some tags models. Users are also able to import other objects 3D models and attach the tags onto them.
‍
‍
The final step that I needed to address was how to detect the embedded tags and display the information associated with them. I decided to use Teachable Machine, which is a software developed by Google that allows people to create machine learning models for their websites. They can teach the machine to recognize artifacts by uploading an unlimited number of pictures, audios, and poses. I then used ML5, another JavaScript library that focuses on machine learning, to create a webcam feed. The webcam would then detect the tags embedded onto the built model. After, the system detects the probability of each of the cases defined in the Teachable Machine and matches the tag to the item with the highest confidence rating.
‍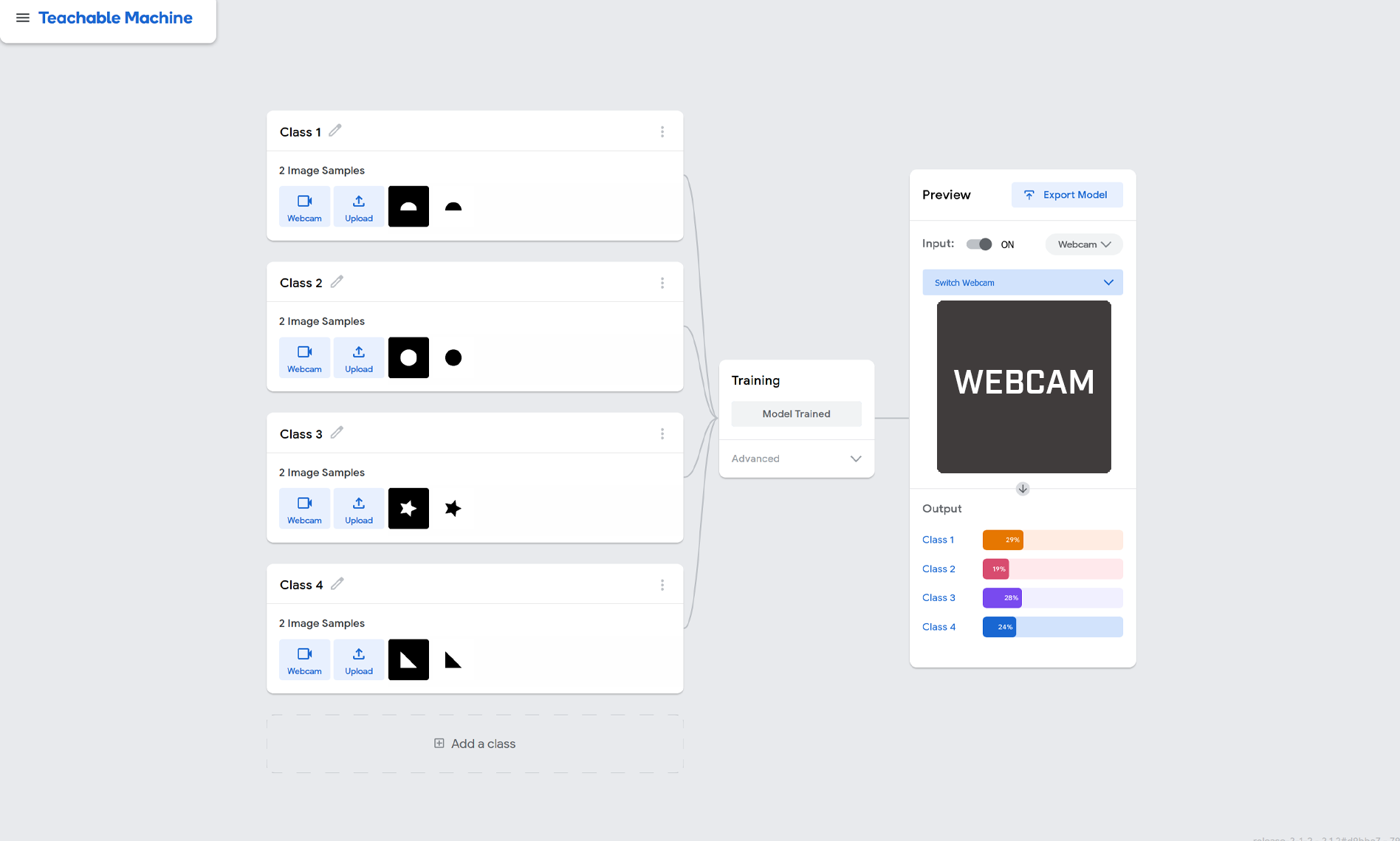 ‍
3. Implementation

To test the built prototype, I ran an evaluation study with 12 professional and hobbyist makers. My goal was to evaluate the functionality of our proposed solution and measure how successful it is in promoting more reflective learning from the project documentation. I also used a survey to measure how much reflections makers had on the object itself and its fabrication process.
Participants reflected on the interaction and described it as "fun", "easy", and "less intimidating". Our survey found that all 12 participants felt that the experience provided them with a deeper understanding of both the object and the fabrication techniques used in building it. The system provided them with information behind the inspiration, motivation, and goal of the project. Furthermore, the direct relationship between the object and its documentation allowed them to directly look for specific fabrication techniques that they were interested in and reflect on those techniques.
‍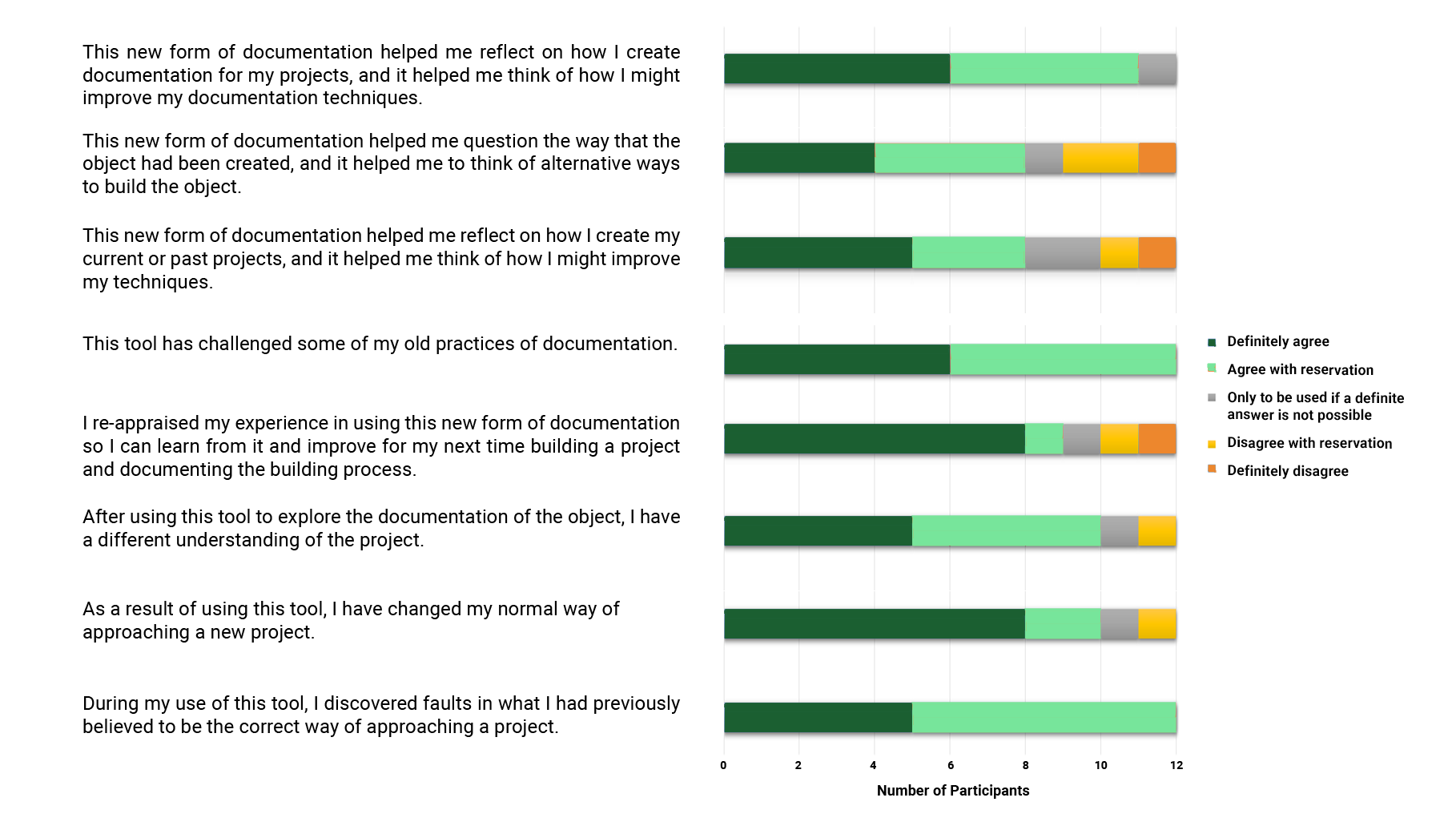 ‍
Overall, I found that associating documentation information with physical tags that get embedded in the printed object helps people reflect on three aspects of the process and the object:
documentation structure - how would they approach organization after documentation data and the different categories they would use,
object's aesthetics - physicalization of documentation information also requires consideration of their aesthetics-related decision in the objects, and
personalization of information sharing and appearance - makers prefer to separate what could be visible to the general public from information that should be visible to other makers.
More information about the findings of the research can be found in the publication.
‍